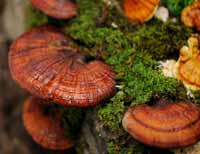 Ganoderma lucidum has been recognized as a precious health supplement for more than 2,000 years. immunity supplement reishi ganodermaThe Ancient Chinese Pharmacopoeia claims that it is one of the few truly "superior" medicinal agents that can strengthen and augment the body's well-being. First recorded in the Eastern Han Dynasty near 1st century BC, Ganoderma lucidum has been traditionally referred to as the "mushroom of immortality." It was named the #1 superior herb (out of 365 herbs) by the Ancient Chinese Pharmacopeia, the Ben Cao Jing.
Known as the Reishi mushroom in Japan, it was used to boost immunity, raise energy levels, alleviate inflammation, and improve liver function. Ancient Chinese texts reveal that the mushroom was also used to enhance vitality and prevent memory loss. The mushroom has been used in Traditional Chinese Medicine (TCM) to treat fatigue, diabetes, high cholesterol, hepatitis, blood clots and tumor growth.
Today, the mushroom is revealed to possess antioxidant, anti-inflammatory, immunomodulating, and anti-tumor properties. Research on Ganoderma lucidum has included findings that suggest its ability to lower cholesterol levels, repair liver damage from hepatitis, and promote sleep.
Many of Ganoderma lucidum's healing properties can be attributed to its unique blend of polysaccharides and trace elements.